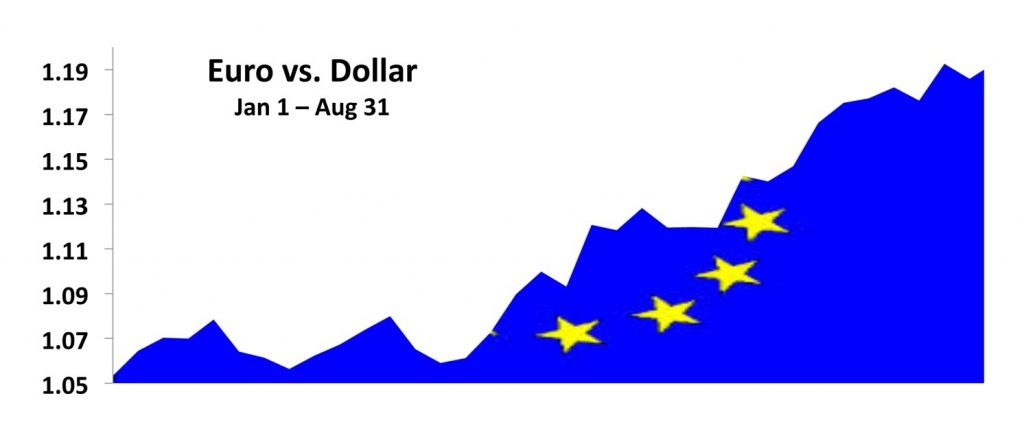 A strong dollar is a positive when traveling abroad as your purchasing power is increased.  A weaker dollar does have its advantages, however, as our exports will usually increase creating a stronger economy.
Though currently valued at 1.17, the euro jumped above 1.20 in August for the first time in 2 1/2 years as weaker than expected U.S. economic data boosted European growth forecasts. The common currency has been rising for several months on the expectations that the European Central Bank (ECB) will begin tapering its bond buying program. So far this year the euro has advanced 14% against the U.S. dollar, its strongest performance since its inception in 1999. An elevating euro is a concern for European exporters due to exports heading for the U.S. become more expensive for American consumers.
A weaker U.S. dollar has led to recalculations by analysts expecting to see an increase in U.S. exports and margins as U.S. exports become more competitive in the international marketplace. The U.S. currency has been in a steady decline since the beginning of the year after reaching a 15-year high. The dollar is down approximately 8% since the beginning of the year versus a basket of major currencies. The decline has been especially pronounced against the Mexican peso, where ongoing NAFTA negations have been a focal point.
Optimistically, the weaker dollar has already spurned an increase in U.S. exports, with a 7% annual increase as of June. The weakening dollar has also increased the value of profits that multinationals realize overseas.

Max W. Smith, CFP®, CIMA® | Kent G. Forsey, CFP®
Sources: Reuters, Bloomberg, ©One Blue Window