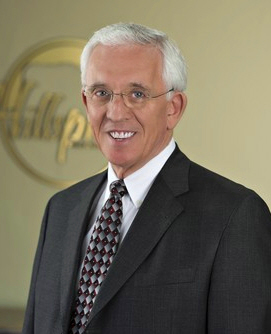 Max W. Smith, CFP®, CIMA®
Chairman
Investment Advisor Representative
Phone: 623-583-6141
Fax: 623-583-6152
Mobile Phone: 623-521-0241
E-mail: max@hillspringfinancial.com

Max W. Smith, CFP
®
,
CIMA®, 
as the Chairman of Hillspring Financial, Inc., sees his role to be one of helping people plan properly for their retirement so they can do the things they've always dreamed of. With his significant experience counseling individuals and groups, regarding ways to help control family financial security, he is able to help his clients gain financial stability in a volatile world. This is especially important to the many clients who have experienced major life changes including retirement, divorce, or the loss of a spouse.  For Max Smith, helping people make a smooth transition to retirement and then to navigate safely through their retirement years is very rewarding work. Max enjoys seeing the peace of mind that comes over his clients as they implement the strategies that help them meet their financial objectives.
Max graduated from Utah State University with a Bachelor of Science degree in 1971.  After several years as a corporate pilot Max entered the financial services industry in 1983.  Max found success within the industry but desired additional flexibility for himself and his clients.  In 1996 he opened Hillspring Financial, Inc., a Registered Investment Advisory Firm of which he is both Chairman and a registered investment advisor representative.  Max obtained his Certified Financial PlannerTM (CFP®) and Certified Investment Management Analyst, (CIMA®) designations and as such agrees to abide by the highest standards of professional conduct and client service.
Max enjoys teaching and has taught many courses and seminars on various subjects in the areas of retirement planning, investment management and wealth management. This includes workshops co-sponsored by Utah Valley State College and classes for CPA's qualifying for continuing education credit through the Arizona State Board of Accountancy. He was also a platform speaker for the annual convention of the Beneficial Life Insurance Company and for the annual convention of the Maricopa Habitat for Humanity. He has also taught classes for the Financial Planning course at the request of the Life Underwriters Training council.
Max is deeply involved in church affairs and has always enjoyed serving in the community. He has worked on various committees for Kiwanis and was a member of their board of directors. He has served on the Resource Development Committee of Habitat for Humanity of the West Valley and is a past member of their board of directors.
Max and his lovely wife, Linda, have 10 grown children and 33 grandchildren combined from their previous marriages.  When he is not working or otherwise serving, Max enjoys traveling with his new wife and working in their yard.